Our hair salon is officially hosting its first-ever giveaway challenge.
HumaniQ artists have really appreciated all of the kind reviews and photos posted online. We're having a special promotion to win a free professional product for simply sharing your hair over the years! We know the power that a great hairstyle holds and how memories form with them. Whether you're going lighter, or in the chair for a simple cut, we want to see you living in it!
Start By Sharing Your Experience With Us!
The customer experience is very important to us. Customers often have great insights and can provide useful feedback. Share your recent salon insights and feedback for our artists. If you've been seeing the same stylists for the past couple of years tell us why!
We also want to hear how your new hair makes you feel. Did you go short and are feeling bolder? Or have you recently tried bangs and love the emphasis on your cheekbones? Our hair cut and color impacts the way we walk through life and others can learn from your experience.
Write us a review on Google or social media to earn an entry!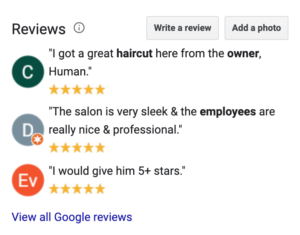 Better yet! Take a photo of your fresh new haircut/color
A photo can be a powerful tool for hairstylists. It helps them get an idea of the desired look, show off their work, and even gives clients a preview of what their hair could look like.
Share a photo on social media and tag us! 
Are you shy or hesitant to share your hair salon experience? There's no pressure to add a photo of your face online. Although, the benefits of sharing your hair experience outweigh the negatives. It's exciting to interact online, and helpful to read others' experiences on top of the fact that it will make your stylist's day to see their clients thriving outside of the salon.
For small businesses like ours – it's an easy way to give back to lead your connections towards a trustworthy salon while leading to word-of-mouth referrals and new clients!
Guidelines?
Choose whatever's easiest for you! Just write a review or tag the salon in a photo on social media to enter! 
1.  Snap a picture of your cut, color, or up-do.  (Done by the work of our artists of course)
We want photos of YOU living in your hair. However, that may look!
Seriously, no pressure, whatever you believe captures your beautiful hair and inner essence.
 2. Review us on any one of our pages!
Google Listing – HumaniQ Salon 
Facebook Page – HumaniQ Like for updates!)
Tag us on Social Media
3.  More social media photos = more entries!
4.  Old photos will count too!
The winner will be randomly selected and walk away with a professional product specific to your hair's needs.
Utilize Your Hair Stylist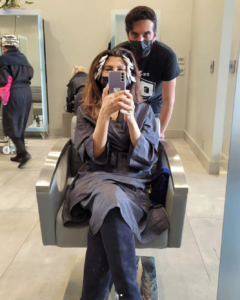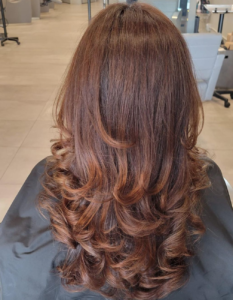 The only thing we love more than beautiful hair is our client relationships. We'd be happy to take a photo of your fresh, hairstyle after each visit. We love going above and beyond to connect with you. Share not only your results but visions for your future self. Is it a bob or highlights in your future? We'd love to consult, all you have to do is reach out!
Ask your stylist to snap a picture before you go.

Grab their card for social media and future appointments.

Find and tag your stylist too! (Try searching our Following list for their name)

Send them inspiration before your next appointment.
So don't wait to share your hairstyle!
Make an appointment by calling (408) 603-4929!
Visit us Downtown Menlo Park at
1148 Crane St, Menlo Park, CA
or
Search through your camera roll to enter our first ever giveaway challenge today!
Our stylists are always happy to help, just call for a free consultation.